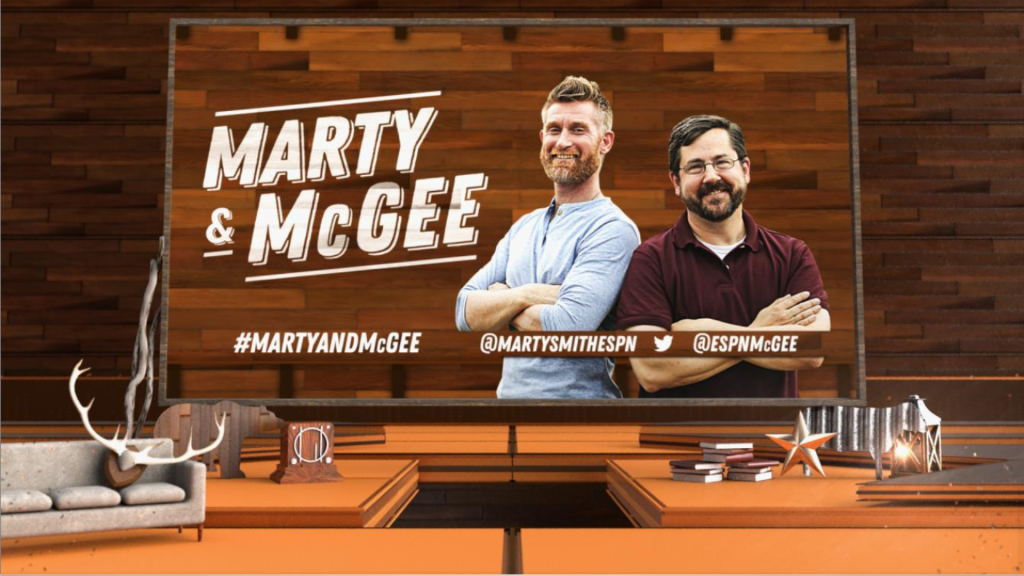 Marty & McGee airs on ESPN 630 AM every Saturday, from 7am – 10am ET.
---
Marty Smith is a bureau reporter based in Charlotte, N.C., reporting on a variety of sports including NASCAR, pro and college football and basketball, and more for ESPN's news and information platforms including SportsCenter. He also is a writer for ESPN.com. Smith joined ESPN in late 2006.
In addition to his reporting and writing, Smith also is co-host of the popular Marty and McGee podcast that lives on ESPN.com. Smith and co-host Ryan McGee of ESPN the Magazine discuss NASCAR and other topics with a wide variety of guests ranging from NASCAR drivers to country music artists to stars from other sports.
A senior writer for ESPN The Magazine, Ryan McGee is a frequent contributor to ESPN.com, Insider, SportsCenter, and ESPNU. He is also the author of The Road To Omaha: Hits, Hopes, and History at the College World Series and ESPN Ultimate NASCAR: 100 Defining Moments in Stock Car Racing History.
He started with ESPN in 1994 working on the production staff of the show RPM2Night, during which time he began contributing to the magazine. McGee is also a member of the Football Writers Association of America (FWAA) and National Collegiate Baseball Writers (NCBWA).