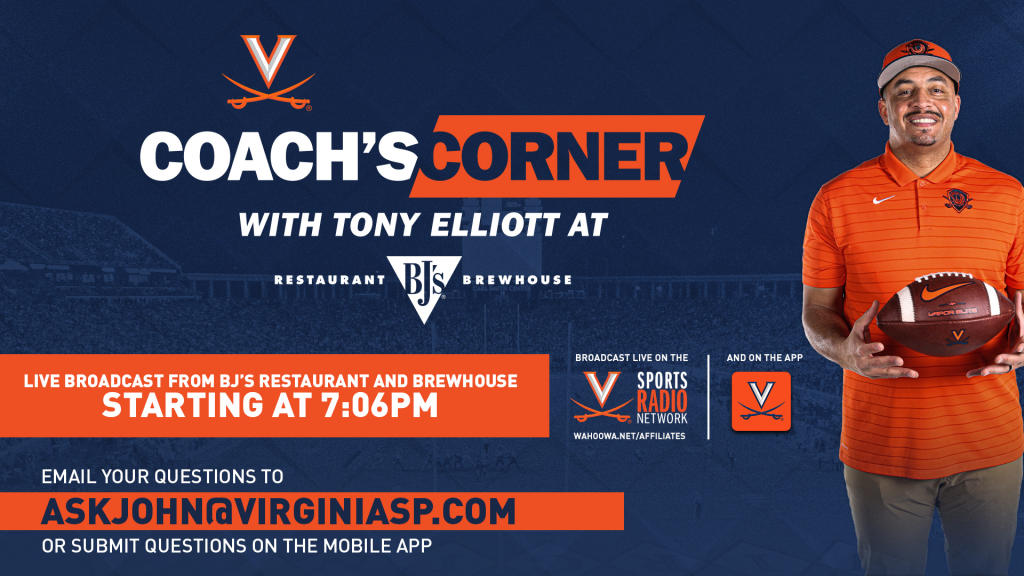 The "Voice of the Cavaliers", John Freeman, hosts Coach's Corner with Tony Elliott every week from 7-8pm ET with Head Coach Tony Elliott.
Fans are encouraged to come to BJ's Restaurant and Brewhouse off Route 29 (Seminole Trail at 3924 Lenox Ave. in Charlottesville, VA.) to watch and interact with the show. BJ's full menu will be available which includes the world-famous Pizookie, the official dessert of UVA Athletics. Ticket and merchandise giveaways will occur during each show and fans will have an opportunity to have items signed by Coach Elliott. During the season, a Cavalier player will also join the show for a segment.
There are a number of ways for fans to listen to and interact with the program. Radio affiliates across the Virginia Sports Radio Network are scheduled broadcast the show. Free online audio is also available at VirginiaSports.com and through the Virginia Sports App as well as a live video stream will be available on the @VirginiaCavaliers official Facebook page.
Fans are encouraged to e-mail questions to the show through the home page of the mobile app, by emailing [email protected] / [email protected] or by tweeting @johnfreemanuva.
---
BJ's Restaurant & Brewhouse is located at 3924 Lenox Ave, Charlottesville, VA 22901.
For the complete broadcasting schedule of Coach's Corner with Tony Elliott, review the image below.
---